trump watches stupid "Fox and Friends" non-news show EVERY DAY and then tweets about what he just watched.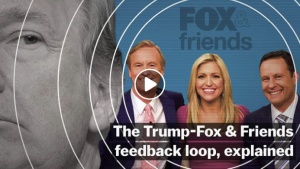 The hosts are now speaking directly to trump, steering the national discussion on pretty much everything, and have an extreme undue influence on trump.
https://www.facebook.com/Vox/videos/838944586293145/
Will this NEVER end????
Even I never thought this would get this bad in my lifetime.
SOMETHING needs to be done. Now. Before it is too late.
#PublicEnemyNo1 #ENEMYofTheState #ENEMYofTheConstitution #ENEMYofThePeople #ENEMYofAmerica
#ManChild #Impeach45 #IMPEACH #IMPEACHtrump #trump #donaldtrump #potus
#MuellerInvestigation #MuellerTime #Mueller
#TREASON #traitor #America #American #USA #UNamerica #UnAmerican
#FUCKtrump