Archive for October 28th, 2017
Author: Popeye Theophilus Barrnumb
Oct 28
Author: Popeye Theophilus Barrnumb
Oct 28
I have to admit I wouldn't mind being the Ghost Writer for this book.
Will the extreme "humor" NEVER end???
Fewer tears never will have been shed and more parties never thrown.
#JFC #fml #MakeAmericaAMERICAagain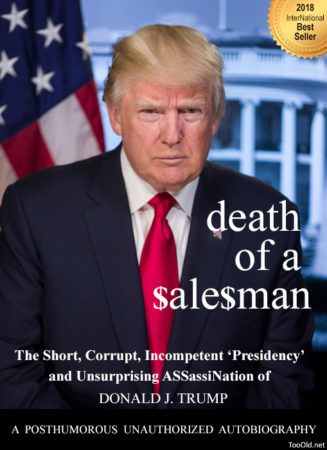 Author: Popeye Theophilus Barrnumb
Oct 28
Ingrid Michaelson's "Be Ok" should be the official non-anthem song of America.
She performed a parody, "(Earth is) Not Okay" that is Climate Change-based on Full Frontal with Samantha Bee, which could easily be an anti-trump / pro-America song with a few changes in the lyrics. ("(America is) Not Okay" — someone should do that who is not a Zero-Threat Talent)
Filed under: Activism, Earth, Environmental Rights, Ethical, GeoEngineering, Humor, Impeach, Music, Parody, Peace, Philosophy, Politics, Rationality and Irrationality, Rights Activism, Satire, Science, trump, TV, Veganism, Vegetarianism